CenCal Health Presents its 2021 Community Report
"Building on a Legacy" is theme of annual report from local health plan established in 1983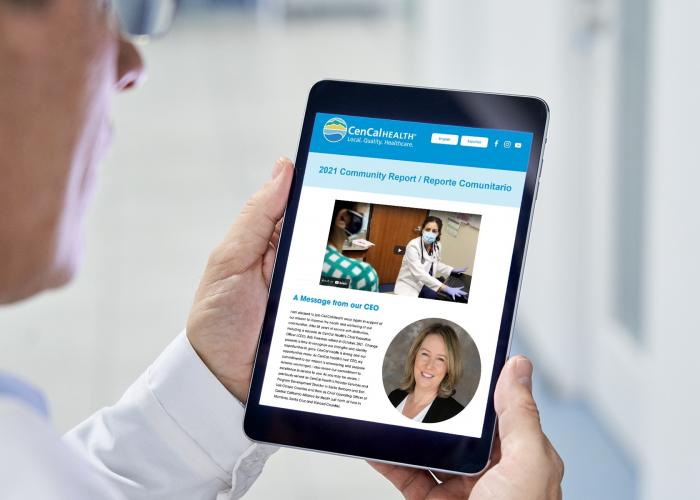 SANTA BARBARA, Calif. – March 17, 2022 – Referencing its decades-long history in healthcare on the Central Coast, CenCal Health published its annual community report this week. Titled "Building on a Legacy: Evolution·Progression·Transition," the multi-media account of the health plan's current position in the community is readily available in English and Spanish at cencal2021.org. Established in 1983, CenCal Health is the Medi-Cal health plan that serves one in four residents of Santa Barbara County and one in five residents of San Luis Obispo County.
In 2021, CenCal Health's membership in both counties grew to 210,248 members, marking an increase of almost 15,000 beneficiaries. Out of 56 contracted Medi-Cal Managed Care entities in California, the health plan ranked #1 in well-child visits for children 15 to 30 months of age in Santa Barbara County, and #3 in overall quality of care in San Luis Obispo County. Nationwide, CenCal Health ranked in the top 5% of Medicaid plans for timeliness of women's postpartum care, in both counties it serves.
The report opens with a welcome video from CEO Marina Owen, who was named to the position in November 2021 after the retirement of former CEO Bob Freeman, who served the organization in various positions for 28 years. This is Owen's second time with CenCal Health, having worked for a decade as the agency's Provider Services Director and Program Development Director. Most recently, Owen was Chief Operating Officer of Central California Alliance for Health, serving Monterey, Santa Cruz, and Merced counties.
"Our legacy is strong as is our focus on advancing the organization into the future," said Owen. "I am pleased to have been appointed by our Board of Directors to this role of serving the community. If the past year has taught us anything, it is a lesson in resilience. We find strength in our local providers and community partners who stepped up to serve those in need with bravery and courage."
CenCal Health's 2021 Community Report emphasizes the important work of its 1500+ local providers and community partners including Community Health Centers of the Central Coast; Santa Barbara Neighborhood Clinics; Santa Barbara County Public Health Department; senior meal program Meals That Connect in San Luis Obispo County; and Camp Mariposas, providing pediatric therapies during the summer in both Santa Barbara and Atascadero.
Featured in the report are several of the innovative healthcare programs that CenCal Health executed due to COVID-19, such as the multi-faceted Vaccine Response Plan. Because the Medi-Cal population participated in COVID-19 vaccination at a lower rate than the general population, special incentives were created and implemented to increase members' protection against COVID-19. Incentives included easy-to-access neighborhood "pop-up" vaccination sites and a $50 gift card for members who received their first vaccine dose.
Another CenCal Health program highlighted in the report was created and carried out in spite of the COVID-19 lockdown. The purpose of the Healthy Mothers Healthy Families program is to increase the rate of timely postpartum appointments for CenCal Health members who have recently delivered babies in San Luis Obispo County. These medical appointments are vital in the early detection of serious, often life-threatening health complications like postpartum hypertension, infections, blood clots, hemorrhage, and depression. Through attention-getting marketing and case management, Healthy Mothers Healthy Families provided support services like appointment scheduling assistance and transportation, to help new moms achieve optimal health outcomes – even during a pandemic.
CenCal Health put a spotlight on its membership with Voice of our Members, a poignant presentation of voice recordings from individuals who called the health plan with employee compliments or customer service accolades.
Also in the all-digital report are sections outlining the 2021 financials and the leadership at CenCal Health, with its 13-member Board of Directors including (now former) VNA Health CEO Lynda Tanner, RN, MSH; Santa Barbara County Director of Public Health Van Do-Reynoso, MPH, PhD; Santa Barbara County Supervisor Joan Hartmann (District 3); San Luis Obispo County Supervisor Debbie Arnold (District 5); Dr. Rene Bravo of Bravo Pediatrics; and Sue Andersen, President & CEO of Marian Regional Medical Center, among other community representatives.
The 2021 Community Report is available to the public at cencal2021.org. For more information on CenCal Health, visit cencalhealth.org
About CenCal Health
CenCal Health is a community-accountable health plan that partners with over 1,500 local physicians, hospitals and other providers in delivering patient care to more than 210,000 members – about one in four residents of Santa Barbara County and one in five residents of San Luis Obispo County. A public agency, the health plan contributes approximately $50 million a month into the local economy, primarily through payments to healthcare providers who serve its membership. Established in 1983, it is the oldest managed care Medicaid plan of its kind in the nation. View its annual Community Report at cencal2021.org
CenCal Health Contact:
Nicolette Worley Marselian
(805) 685-9525 ext.1993
nworleymarselian@cencalhealth.org
Media Contact:
Sheri Mobley
(805) 845-5627, (213) 509-9816
sheri@seamlesspr.com