Contra Costa Health Plan Welcomes New CEO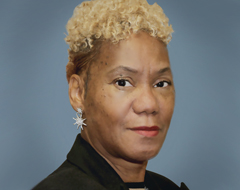 Contra Costa Health Services announced today that Sharron Mackey has accepted the permanent position of Chief Executive Officer (CEO) of Contra Costa Health Plan (CCHP).
Ms. Mackey has more than 25 years of experience in healthcare and stepped up as interim CEO in December 2018. She has worked with six major health plans in California, serving in various leadership roles. Before becoming CCHP's chief operating officer in January 2017, she was a senior project manager for Blue Shield of California for many years. Sharron also served our country in the U.S. Air Force for more than 20 years.
"Her professional background also includes a strong knowledge of provider relations, Medi-Cal managed care, utilization management and contracting. We are grateful for her leadership and look forward to working with her in her new, permanent position." said Anna Roth, Director of Contra Costa Health Services.
About Contra Costa Health Plan
Often called the "best kept secret of Contra Costa County", Contra Costa Health Plan (CCHP) has been serving the health needs for people in the County for 40 years. CCHP was the first federally qualified, state licensed, county sponsored HMO in the United States. In 1973, we became the first county sponsored health plan in California to offer Medi-cal Managed Care coverage and in 1976, we became the first county run HMO to serve Medicare beneficiaries. In the 1980's, we expanded our programs to reach out to county employees, businesses, individuals and families. In 2014 as part of the implementation of the Affordable Care Act, CCHP enrolled over 35,000 newly eligible individuals into Medi-Cal Managed Care and in 2015 over 25,000 more individuals enrolled into CCHP Medi-Cal Managed Care.
Contra Costa Health Plan now serves over 180,000 people in Contra Costa County and continues to be at the forefront of offering comprehensive, quality health coverage.