Health Plan of San Joaquin (HPSJ) Says – It's Time for Your Child's Wellness Visit!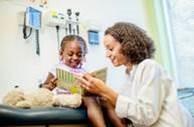 It's time for your child's Wellness visit! The Well Child visit is for members from the age of 12 months to 19 years old. During this visit doctors can make a record of your family's health, give health exams and do lab work. The American Academy of Pediatrics says children should visit their doctor at least once a year for a Well Child visit. These yearly exams help make sure children are growing at the right pace. At your Child's Wellness visit you can expect the doctor to:
Check your child's weight and height
Talk about your child's eating and sleeping patterns
Talk to you about any health concerns you have about your child
Review ways to keep your child safe in the house
Give a fluoride varnish treatment (up to age 6)
This visit is also a time when parents can talk with the doctor about any problems, ask questions and make sure kids are up-to-date with all their shots.
HEDIS and NCQA Coordinator Dawn Kijowski with Health Plan of San Joaquin says: "It is vital to get your child into the doctor's office for their shots. By seeing the doctor you are not only protecting your child from illnesses and diseases, but also the community's health. Well child visits are vital to the overall health of your child."
If your child is starting kindergarten, you should visit the doctor early. Do not wait until the school year is about to start. That is what other parents will be doing. If your doctor's office gets very busy, your visit may not get scheduled in time or your doctor may be so rushed that he or she is not able to give you all the time you would like.
No matter how old, it is vital that you and your child have a relationship with the doctor, as well as, get yearly health exams. Nurse Jennifer Norris at Health Plan of San Joaquin says, "Well-child visits help support a healthy life for your children. These visits help doctors stop health issues before they happen or from getting worse. Help give your children a healthier start in life and talk to your doctor today."
Whether it is to talk about your family records and habits, check vital signs or if you're just making a routine visit, you can work with your doctor to help keep your children healthy or get healthier. Together, you and your doctor can make a plan that works for you and your child.
School is out for the summer, but the doctor is still in. Beat the crowds and get your visit in before the new school year starts.
Here is a handy chart to clip and keep.
About HPSJ
HPSJ, a not-for-profit health plan, has been serving members and the community since 1996. With over 300 employees, HPSJ is located in the heart of California's multicultural Central Valley. HPSJ is the leading Medi-Cal Managed Care provider in San Joaquin and Stanislaus counties and offers a broad network of providers and works closely with physicians to develop programs and services to ensure quality health care for almost 350,000 members.
HPSJ is one of only 11 health plans in California with NCQA Accreditation for a managed care Medi-Cal program. Medicaid is known as Medi-Cal in California. Only 160 Medicaid/HMO plans in the U.S. had this NCQA seal at the time of HPSJ's 2015 Accreditation.

Media Contact:
David Hurst
dhurst@hpsj.com
209-461-2241