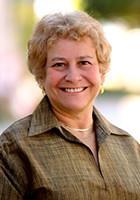 Maya Altman
Chief Executive Officer,
Health Plan of San Mateo
Maya Altman has been the chief executive officer (CEO) of the Health Plan of San Mateo (HPSM) since June 2005. HPSM is a government sponsored health plan serving more than 100,000 members in San Mateo County, California. Its programs include Medicaid, a Medicare Special Needs Plan, Healthy Kids, and HealthWorx (for in-home health workers and San Mateo County temporary help employees). HPSM also serves as the third party administrator for San Mateo County's indigent care program. The plan was founded in 1987 and currently has an annual budget of $450 million. Over 40% of HPSM's Medicaid members are seniors or persons with disabilities.
Maya led the implementation of CareAdvantage, HPSM's Medicare Special Needs Plan (SNP), which serves 8,000 members eligible for both Medicare and Medicaid. HPSM's program is one of the larger Special Needs Plans in California and enrolls more than 60% of the eligible beneficiaries in its market. HPSM's current initiatives include developing a long term care integration program that builds on its successful SNP.
Before joining HPSM, Maya served as the director of finance and administration for the San Mateo County Health Department, where she provided budget and financial leadership for the county hospital, public health, mental health, and aging and adult divisions.
Maya received a Bachelor of Arts degree from Bryn Mawr College and a Master's Degree in Public Policy from the Goldman School of Public Policy at UC Berkeley.